HCU-100
Hydraulics controller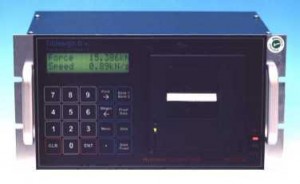 The HCU-100 is a measure and control unit for hydraulic systems. The standard software inside the unit is fit for testbenches like concrete presses and pulling benches. The number of extra components to realize a fully functional system is minimized. The HCU-100 interfaces directly to the loadcell. The necessary loadcell amplifier is integrated into the HCU-100. The control switches can be connected directly to the HCU-100. The valve control signal is the only signal that requires an external control card fron the valve manufacturer. This provides you the freedom of choice when it comes to selecting a hydraulic valve. The control voltage to the valve is 0-10 V.
Measuring ranges
The HCU-100 can handle 2 complete sets of settings and calibration data. This way it is easy to control a double testbench. A single testbench can benefit from this feature as well. The measuring range can be split into a high and low range. These ranges can be calibrated separately to compensate for mechanical non-linearities.
Loadcell input
The HCU-100 outputs a loadcell excitation voltage of 10.00 V. The resulting loadcell voltage is amplified and measured. The sensitivity of the loadcell input can be configured between 2 mV/V and 10 mV/V. The loadcell resistance must be at least 150 Ohm.
PC connection
Through an RS-232 port (COM) the HCU-100 can be connected to a PC. With the PC program Loadview you can remote control the HCU-100. You can start and stop the tests and the results are loaded into the PC automatically. These results can be stored in the hard disk and serve as testing history.
Complex testing
Sometimes test procedures are complex. For this we developed a macro language that allows test to be run in 3 cycles. During each cycle a force can be applied, held and released depending on a number of pre-set conditions.
Example
A test procedure like this one can be executed in a single run:
Apply a force of 1200 N with an inrease of force of 20 N/s.
Hold this force during 30 minutes.
Apply force with an increase of 50 N/s until the product breaks.
Then release the force.
Apply a force of 800 N with a force increase of 10 N/s.
Hold this force during 15 minutes.
Then release the force.
Download
Click here to download the product folder of the HCU-100 hydraulic controller(pdf).
In case you are interested in the HCU-100 hydraulic controller, please feel free to contact us.
We really like to help you out.